Posts for: January, 2018
By Krupa Dental Care
January 19, 2018
Everyone knows that in the game of football, quarterbacks are looked up to as team leaders. That's why we're so pleased to see some NFL QB's setting great examples of… wait for it… excellent oral hygiene.
First, at the 2016 season opener against the Broncos, Cam Newton of the Carolina Panthers was spotted on the bench; in his hands was a strand of dental floss. In between plays, the 2105 MVP was observed giving his hard-to-reach tooth surfaces a good cleaning with the floss.
Later, Buffalo Bills QB Tyrod Taylor was seen on the sideline of a game against the 49ers — with a bottle of mouthwash. Taylor took a swig, swished it around his mouth for a minute, and spit it out. Was he trying to make his breath fresher in the huddle when he called out plays?
Maybe… but in fact, a good mouthrinse can be much more than a short-lived breath freshener.
Cosmetic rinses can leave your breath with a minty taste or pleasant smell — but the sensation is only temporary. And while there's nothing wrong with having good-smelling breath, using a cosmetic mouthwash doesn't improve your oral hygiene — in fact, it can actually mask odors that may indicate a problem, such as tooth decay or gum disease.
Using a therapeutic mouthrinse, however, can actually enhance your oral health. Many commonly available therapeutic rinses contain anti-cariogenic (cavity-fighting) ingredients, such as fluoride; these can help prevent tooth decay and cavity formation by strengthening tooth enamel. Others contain antibacterial ingredients; these can help control the harmful oral bacteria found in plaque — the sticky film that can build up on your teeth in between cleanings. Some antibacterial mouthrinses are available over-the-counter, while others are prescription-only. When used along with brushing and flossing, they can reduce gum disease (gingivitis) and promote good oral health.
So why did Taylor rinse? His coach Rex Ryan later explained that he was cleaning out his mouth after a hard hit, which may have caused some bleeding. Ryan also noted, "He [Taylor] does have the best smelling breath in the league for any quarterback." The coach didn't explain how he knows that — but never mind. The takeaway is that a cosmetic rinse may be OK for a quick fix — but when it comes to good oral hygiene, using a therapeutic mouthrinse as a part of your daily routine (along with flossing and brushing) can really step up your game.
If you would like more information about mouthrinses and oral hygiene, contact us or schedule a consultation.
By Krupa Dental Care
January 04, 2018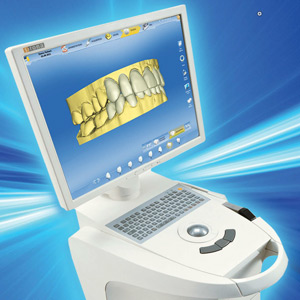 The traditional way to restore a tooth with an artificial crown takes several weeks and multiple office visits: from tooth preparation and impression molding to crown production by a dental laboratory, followed by adjustments and cementing. Now, there's an alternative that reduces this process to a fraction of the time, and all from your dentist's office.
Computer-Aided Design/Computer-Aided Manufacturing (CAD/CAM) is a digital system that enables dentists to create dental restorations with laboratory-grade materials in minutes rather than weeks. As it continues to innovate, you'll see more and more dentists investing in the new technology for their patients.
A crown restoration with CAD/CAM begins like any other with decay removal and preparation of the tooth. It diverges, though, from the traditional in how an impression of your teeth and gums is obtained: instead of rubber-like molding materials to create a physical impression, we lightly dust the mouth interior with a reflective powder. Using a scanning wand, the reflective powder allows us to capture multiple, detailed images of your mouth that the CAD/CAM computer transforms into an accurate three-dimensional model.
We use the model to first assess if the tooth has been effectively prepared for a restoration. If so, the design feature of the system will provide us with thousands of tooth forms to choose from to match with your natural teeth. You'll be able to view the proposed size and shape of the new crown via computer simulation before signing off on the design.
Next is the actual manufacture of the crown that takes place right in the dentist's office. A pre-formed block of ceramic material is inserted in the milling equipment where, following the pre-determined computer design, the milling heads carve the ceramic block. After milling, we fine-tune the crown surface and apply stains or glazes fired to create a life-like color and texture that matches your natural teeth. We can then adjust the crown in your mouth and permanently affix it to the tooth.
While much of the CAD/CAM system is automated, ultimate success still depends on the dentist's expertise and artistry. CAD/CAM enhances those skills with greater precision and in much less time than traditional crowns. It's certainly a growing option for many people to restore the form and function of decayed teeth.
If you would like more information on computer-aided dental restorations, please contact us or schedule an appointment for a consultation. You can also learn more about this topic by reading the Dear Doctor magazine article "Creating In-Office Dental Restorations with Computers."