Posts for tag: cosmetic dentistry
By Krupa Dental Care
February 17, 2019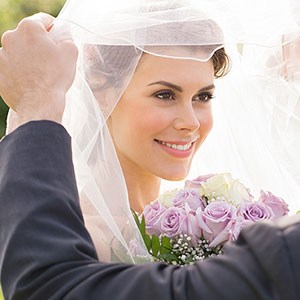 The big day you've waited for all your life is just around the corner — your wedding day! And to make that day as special as possible you've been working on making yourself more attractive.
In all your preparations, don't forget your smile. There are many ways to make it shine, some requiring little time or effort. A professional dental cleaning and polishing, for example, can do wonders for brightening your smile. If you have above normal staining, you can also undergo professional whitening to remove stains and enhance your teeth's natural color.
Some problems, though, like chipped, slightly misaligned or heavily stained teeth may require more than a cleaning or whitening session. In these cases, you might consider covering these less attractive teeth with porcelain veneers to transform their appearance. As the name implies, veneers are a thin layer of tooth-colored, translucent porcelain custom designed for you and bonded permanently to the visible tooth.
While veneers can significantly change your smile, it can't fix every appearance problem. Some teeth require more extensive dental work, like a porcelain crown that completely covers a tooth, or dental implants to replace missing teeth. In more complex situations you may want to look at orthodontics to repair an unattractive bite, or plastic surgery to change the look of a gummy smile.
Keep in mind, though, many of such treatments take time: installing dental implants can take months and some orthodontic treatments, years. As soon as you can, you should discuss your smile appearance with your dentist and what can be done to enhance it in the time you have.
With the help of your dentist, orthodontist or other specialist, you can change your smile. And that, along with all your other preparations, will help make that once in a lifetime day even more special.
If you would like more information on undergoing a smile makeover, please contact us or schedule an appointment for a consultation. You can also learn more about this topic by reading the Dear Doctor magazine article "Planning Your Wedding Day Smile."
By Krupa Dental Care
July 01, 2018
Most of us wouldn't think of buying a new car without a "test drive." It's a serious investment, so you want to make sure you're comfortable with your new ride.
Like an auto purchase, the plan you and your dentist agree on to cosmetically enhance your teeth and gums — a "smile makeover" — is a significant investment. Wouldn't it be nice to "test drive" your future smile before you undergo any procedures?
Actually, you can — two ways, in fact. For one, your dentist could use computer imaging software that alters a photo of your face to show how your smile will appear after dental work. These computer enhancements are a great planning tool for making decisions on the look you want to achieve.
But even the best computer images only provide a static, two-dimensional representation of your new smile. It can't capture all the angles and movement dynamics of any proposed changes. That's where the other way, a trial smile, is a true test drive — you can see your future smile in action.
With a trial smile, your dentist temporarily places tooth-colored material called composite resin on your teeth to simulate the proposed changes. The resin can be shaped and sculpted to create a life-like replica that you'll be able to view in all three spatial dimensions. What's more it will give you a chance not only to see what your new smile will look like, but to actually experience how it feels in your mouth.
Creating a trial smile is an added expense and it's only available during your consultation visit — the dentist will need to remove the resin before you leave. But you'll still be able to get a good impression of what your final smile will be like. You'll also be able to take photos you can show to family and friends to get their impressions of your proposed new look.
A trial smile allows you to know beforehand what your dental work investment will provide you, and even fine-tune your makeover plan before work begins. With this particular kind of "test drive" you'll have greater assurance that you'll be happy and satisfied with the end results.
If you would like more information on trial smiles, please contact us or schedule an appointment for a consultation. You can also learn more about this topic by reading the Dear Doctor magazine article "Testing Your Smile Makeover."
By Krupa Dental Care
December 05, 2017
The holidays are a season for giving. At this time of year, lots of us spend hours rushing around, looking for the perfect gifts for people we care about. But sometimes, amidst all the hustle and bustle, it doesn't hurt to step back and think about yourself a little. If a better-looking smile has been on your list but you haven't taken the first steps, the holiday season might be the right time to give yourself a gift.
Many smile problems, like discolored, chipped or uneven teeth, can be resolved with veneers—wafer-thin porcelain shells that cover the front surfaces of teeth. Veneers are custom-made just for you: They can have a pearly luster to match your existing teeth, or be Hollywood-white for a dazzling red-carpet smile. In just a few visits to the dental office, you can have the smile you've always wanted—and a whole new look for the New Year.
If damaged or missing teeth are what's bothering you, you'll be happy to know that there are lots of good options for replacing them. If the tooth's roots are still in good shape, a crown or cap could be the answer. This is a sturdy replacement for the entire visible part of the tooth that not only looks great, but also functions well in your bite—and can last for years to come.
If teeth are missing or can't be saved, we offer several options for replacement, including fixed (non-removable) bridgework and dental implants. A tried-and-true method for replacing one or more missing teeth, bridges are firmly supported by healthy teeth next to the gap in your smile. These teeth must be prepared to receive the bridge by having some of the tooth's surface removed.
Dental implants are today's premier option for tooth replacement. In this high-tech system, a root-like titanium insert, placed directly into the bone beneath the gum, forms a solid anchorage for the visible part of the replacement tooth. Implants look and feel completely natural, and can last for many years. Plus, they don't require any work to be done on nearby teeth.
What kind of smile makeover is right for you? Just ask us! We will be happy to take a look at your smile and recommend a treatment plan. And in this season of generosity, there's no better gift you can give yourself than a bright new smile.
You can learn more about smile makeovers by reading the Dear Doctor magazine article "Beautiful Smiles by Design."